Posted on 14th Aug 2019 @ 7:06 PM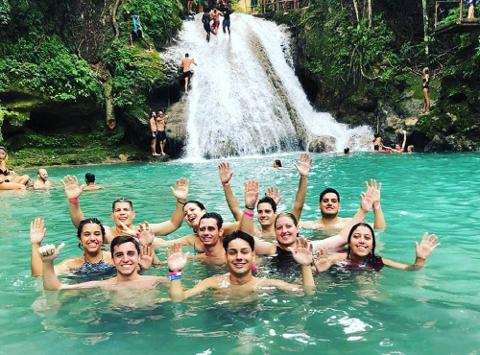 Are you looking for the tour of a lifetime – one that will nourish your energy reserves, help you feel alive, and provide you with that rush of adrenaline that you so long for?

Then, look no further than the unique and enjoyable Irie Blue Hole Tours Jamaica. One of the most popular attractions of Ocha Rios that you simply cannot miss, Blue Hole is a mesmerizing natural lagoon in a tropical rainforest.
On top of having the pleasure to stay on heaven on earth, even getting there is an experience that you will cherish. Surrounded by impeccable sights as well as scenery such as waterfalls, caves, and lush greenery, Blue Hole will enlighten your soul. It is a destination that will help you mentally rejuvenate provided that you pay a visit.
What's even better is that you can take part in various amusing activities such as taking a dip in the fascinating plunge pool, swimming in the chilly freshwater, swinging from a hanging rope in the midst, and crawling through the impeccable caves. Plus, you can even mingle with the locals to get to know more about the history and culture of the place.
Once in Jamaica, Irie Blue Hole Tour is one thing you simply cannot miss. Note that you will be well taken care of by personalized tour guides and your schedule will be planned right down to the minutest detail to provide you not only convenience as well as safety but also a memorable experience.
Isn't that just what you want, what are you waiting for?
Book the tour as soon as possible and be prepared to have the most meaningful as well as exciting excursion of your life. Call us at (876) 798-1566 or 1(876) 774-6813 or Email info@jamaicatransfersonline.com